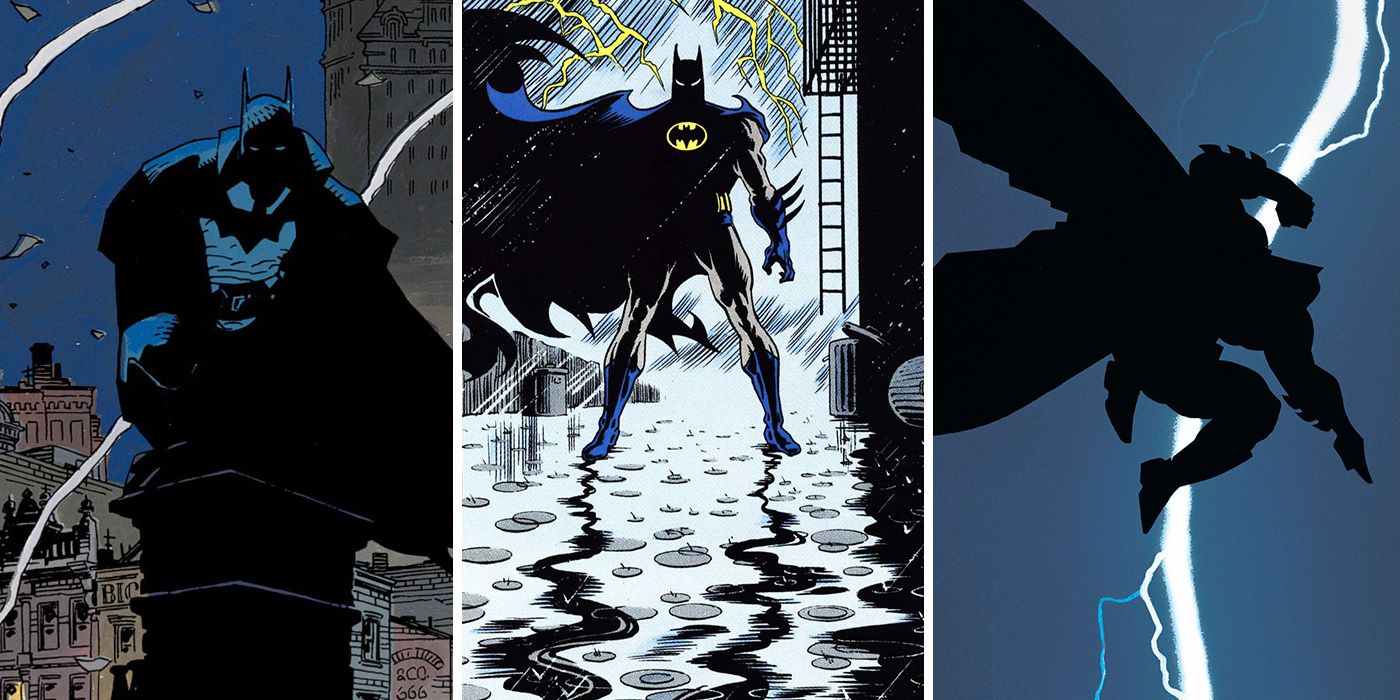 10 Best Batman Comic Book Covers From The 80s
Batman may have been created by Bob Kane and Bill Finger in 1939, but the modern version of the "Dark Knight" originated in the 1980s in books like Return of the Dark Knight by Frank Miller and killer joke by Alan Moore and Brian Bolland. It was a groundbreaking decade for the Caped Crusader, with stories that explored the character's past, present, and future in ways no one had before.
RELATED: 10 Least Friendly DC Comics Superheroes
These stories were crafted by some of DC Comics' greatest writers and artists, and while the stories contained in the comics were fantastic, their covers were equally memorable. Artists like Todd McFarlane, Mike Mignola, and David Mazzucchelli have created some of the most striking and engaging Batman covers of all time.
ten

Detective Comics #566 shows the thieves
When Batman and Robin receive a mysterious note asking them to "know their enemies", they settle in front of the Batcomputer to browse through their files and review their villains. The issue includes a dozen splash pages depicting some of Batman's greatest Silver and Bronze Age villains, such as Ra's al Ghul, Deadshot, Nocturna, and more.
The number looks more like an anniversary or annual number. The cover, illustrated by Dick Giordano and Anthony Tollin, faithfully reflects the walk in the past that the interior offers. Portraits of some of Batman's greatest villains hang on the walls like a museum.
9

The Demon's Son Features a Defiant Batman
Batman: son of the demon took the relationship between Batman and Talia al Ghul to the next level. After Batman works with Ra's to stop an eco-terrorist, Bruce and Talia have time to explore their relationship and Talia becomes pregnant. Fearing that the baby would distract him from his heroic obligations, Talia lied to Bruce, telling him that she had had a miscarriage.
RELATED: 10 Things You Didn't Know About Talia Al Ghul
As fans know, years later it will be revealed that Talia gave birth to Damian Wayne, the new Robin. son of the devil, by Mike W. Barr and Jerry Bingham, looked like an adaptation of an early Dennis O'Neil/Neal Adams Batman story, and Bingham's painted art style is gorgeous, standing out from most strip styles drawn at the time.
8

The Dark Knight Returns #4 shows Batman facing off against the Man of Steel
The ultimate superhero showdown took place at Return of the Dark Knight #4. Superman and Batman had swapped fists before in the comics, but never like this. Frank Miller crafted a confrontation that went deeper than any physical brawl, showing Superman and Batman arguing over their morals, ideals, and opposing views on what's right.
The fight itself has been adapted countless times, most notably in Zack Snyder's film Batman V Superman: Dawn of Justice. The cover is just as visually striking as all of Miller's covers. The World's Finest fight atop the wreckage of a war zone, their silhouettes silhouetted against the fires behind them.
seven

Batman #423 shows just how cool Batman's cape can be
Todd McFarlane is best known for creating Spawn and his contributions to the amazing spider man, including the co-creation of Venom. But fans might not realize that McFarlane actually spent time at DC Comics, creating some great covers for Batman.
When McFarlane drew Spider-Man, he studied spiders, putting the Wall-Crawler in exaggerated and acrobatic action poses. For Batman, McFarlane exaggerated the physics of his cape, creating folds and shapes that made Batman look more like a gothic creature of the night, as seen on the cover of Batman #423.
6

Batman #436 "Year Three" saw Dick Grayson's origin
After the success of Miller and Mazzucchelli's "Year One" Batman storyline, DC Comics expanded on Batman's early crime-fighting years. One of the most successful explorations came from Marv Wolfman and Pat Broderick's "Year Three" storyline, which began in Batman #436.
RELATED: 10 Comic Book Characters Who Were Forced To Grow Up Too Soon
The cover, illustrated by legendary artist George Pérez, was a collage of images of a shadowy Batman, Haly's Circus, Nightwing and a young Dick Grayson crying over the body of his parents, mimicking the cover by Mazzucchelli from "Year One". While "Year One" explored Bruce's origins, "Year Three" delved into Dick Grayson's origin.
5

The killer joke is an iconic joker cover
Written by Alan Moore, illustrated by Brian Bolland and colored by John Higgins, Batman: The Killing Joke explored a possible origin story for the Joker, something that had remained largely untouched until the 1980s. The Agent of Chaos was given some stability, portrayed as a failing comedian desperately trying to support his new family.
The killer joke was a dark and mature story that featured shocking images and events that would eventually be inserted into the main DC continuity. Bolland's cover design was simple but memorable. The Joker is holding a camera, taking a photo of the reader. It's one of the most recognizable Batman covers of all time.
4

Batman #406 saw Batman under siege
All of David Mazzucchelli's covers for the four-part "Year One" story deserve a place among the best comic book covers of the decade. Batman #404 features Bruce Wayne kneeling beside his parents' bodies, #405 puts Batman in the spotlight, while #407 depicts a shady confrontation between Batman and Gordon.
Although they are all fantastic, number 406 exceeds them. The cover features a snapshot of a scene from the book as Batman evades Gotham police. "Year One" revolutionized Batman's origin, and while the plot was well crafted by Frank Miller, Mazzucchelli's art is timeless and will continue to influence Batman stories for years to come.
3

Gotham By Gaslight Shows A Victorian Era Dark Knight
DC's heroes and villains have such strong narrative underpinnings that changes to their origins or future are not only accepted but encouraged. This has been proven in Elseworlds stories like Superman: Red Son and Batman: Gotham by Gaslight.
In Gotham by Gaslight, written by Brian Augustyn with art by Mike Mignola, Bruce Wayne exists in the late 19th century, hunting Jack the Ripper in London. The art inside the book is as amazing as the cover itself. Batman's iconic figure perches on a rooftop with the nighttime city of London behind him.
2

Detective Comics #587 shows off the quintessential Batman of the 1980s
In the 1980s, artists Norm Breyfogle and Anthony Tollin created a series of beautiful gothic-style Batman comic book covers, but the cover of Detective comics #587 stands out as simply "Batman". The Dark Knight stands in a dark alley, illuminated by lightning in the background as rain hits the street below him.
RELATED: The 10 Worst Things About The Riddler
It's the kind of imagery that separates Batman from most other superheroes. He is a creature of the night, a vigilante who hunts down shadows. The best Batman covers are often the simplest, using Batman's iconic silhouette to create stunning visuals.
1

The Dark Knight Returns #1 by Frank Miller and Lynn Varley
Return of the Dark Knight is one of the most famous Batman stories of all time, thanks to creators like Frank Miller, Klaus Janson and Lynn Varley. It might be one of the best Batman stories ever told, but the art is even better. The cover image for issue #1, with a larger Batman lit up by a thunderbolt, is absolutely iconic and has been recreated by countless artists for countless covers.
One of the best things about Return of the Dark Knight is that it can be read without Batman's prior knowledge. Sure, the characters reference past events like Jason Todd's death, but the story stands on its own in a possible future that doesn't necessarily exist in the main DC Comics continuity.
Next: 10 Best Spider-Man Comic Book Covers From The 80s