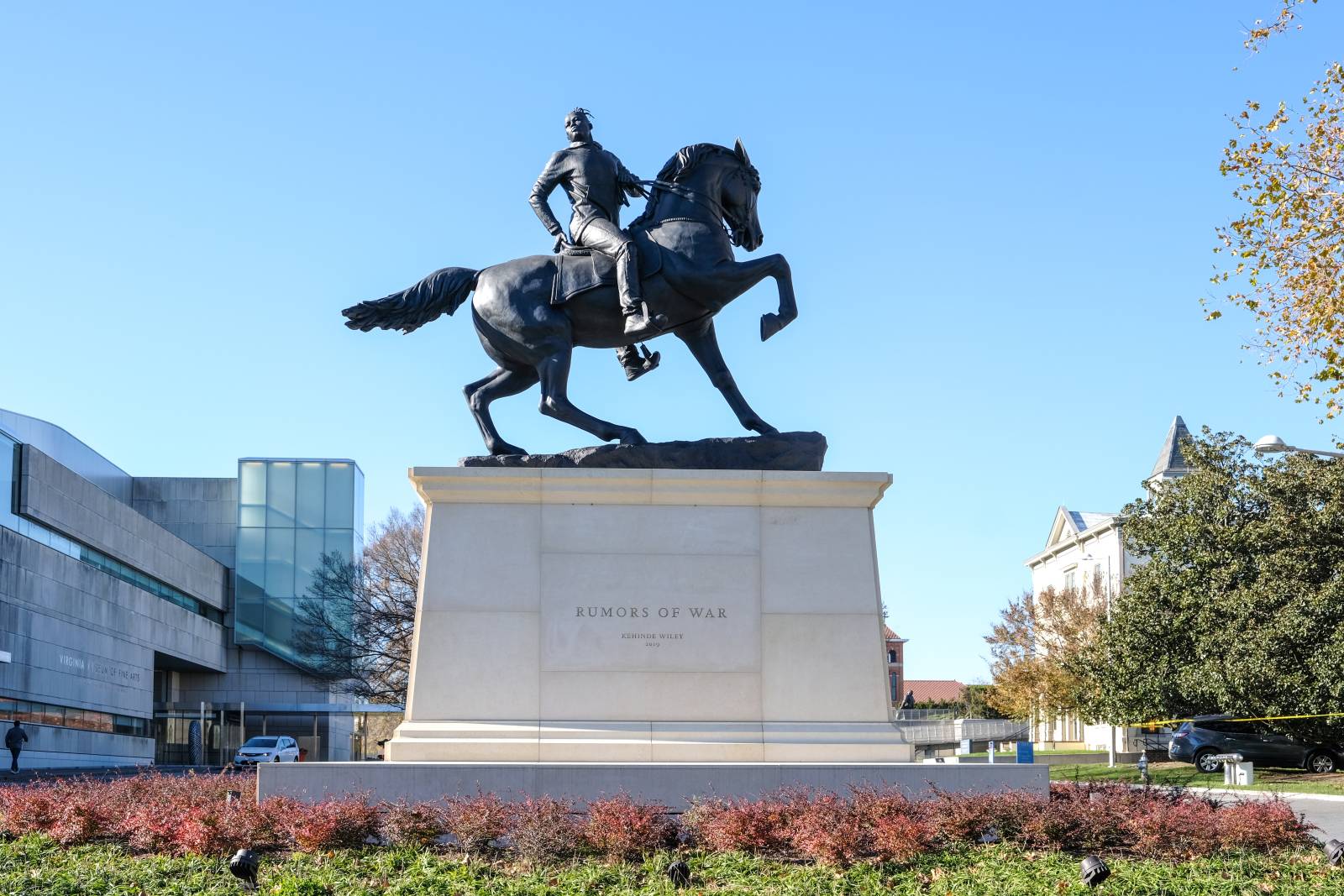 When internationally acclaimed artist Kehinde Wiley traveled to Richmond, Va., to open an exhibition of his work at the Virginia Museum of Fine Arts in 2016, he strolled along Monument Avenue near the museum for a break time. And it took him to a dark place. While the beautiful boulevard is leafy and lined with grand homes, along its length stood a collection of towering Confederate monuments – menacing bronzes honoring Jefferson Davis, Robert E. Lee and Stonewall Jackson.
Three years later, Wiley stood in New York's Times Square, recalling that fateful day and unveiling his ambitious artistic response, a mock-up of which will soon be installed on Johns Hopkins University's Homewood campus.
"I'm a black man walking these streets, looking at these things that give me a sense of dread and fear," he said. "How does it feel, physically, to walk in a public space and have your state, your country, say, 'This is what we stand for? No, we want more. We demand more. We creatives create more."
What Wiley created and unveiled was Rumors of war, a 27-foot-tall bronze equestrian statue closely modeled after a Richmond statue of Confederate General JEB Stuart. While the horse looks almost exactly the same, Wiley swapped the sword-wielding Stuart in his military overcoat for a dreadlocked black man in a hoodie, distressed jeans and Nikes. Wiley, who was chosen to paint President Obama's official portrait in 2018, says the sculpture, like his paintings of black figures in Old Master-inspired settings, honors the "monumental in people once considered peripheral," and that bronze represents "the evolution of our society."
After two months in New York, Rumors of war– the name derived from a line of Bible verses – moved to permanent residence outside the VMFA in 2020, where he is now the only rider around: Richmond's last Confederate monument was removed in 2021.
One of the few artist-stamped scale models of Wiley's sculpture will soon grace the atrium of JHU's Mudd Hall. The model, which stands just over 7 feet tall with its base, will be installed on Friday, April 22 and officially unveiled at 5 p.m. in an event including remarks and a Q&A with curator Valerie Cassel Oliver. from the Museum of Modern and Contemporary Art to the Virginia Museum of Fine Arts. The work is on long-term loan to the university from its owner, investor, philanthropist and JHU administrator, Bill Miller.
"I think it's really important that this happens," said Johns Hopkins art history professor Stephen Campbell. "It's something that myself, my students and my colleagues will be very excited about."
He notes that it is significant that the rider of Rumors of war is not a particular person. (Indeed, the artist said the face is a composite of six different black men.) "It represents an excluded people or peoples in general," Campbell says, calling it a challenge to "ideology and the aesthetic of the white warrior". on horseback, which became racialized at the end of the 19th century."
The now "usual adornment" of our public spaces by equestrian statues has its roots in 15th-century Italy, says Campbell. Such statuary "is an expression of power and dominance" with the "warrior riding through the city in triumph and glory". Confederate statues of this design are an anomaly, however, in that the Confederacy was not the victor. "They are a form of historical dissent and an aggressive way of claiming center stage in history," Campbell says of the riders. "'We lost the war, but I'm here anyway.'"
"What does the installation of this statue force us to think about in terms of power and authority? To beauty? I think these are important questions on a campus like ours.
Martha Jones
History teacher
Confederate monuments began being erected in the 1870s after "the possibility of interracial democracy" ended and the Jim Crow era began, says Martha Jones, professor of history and director of the Hard Histories project at Hopkins, which examines the role that racism and discrimination have played in college. "The nation has been stitched together under the principle of white supremacy, manifested in reverence for Confederate generals and a political vision in which black Americans are subordinated and excluded from the body politic," she says.
Baltimoreans erected a number of statues to Confederates or their sympathizers during this time, although the City of Baltimore, after a lengthy review process, removed the most significant in 2017. Among them was a double equestrian statue by Robert E. Lee and Stonewall Jackson. on the western edge of Wyman Park Dell adjacent to the Homewood campus. Only its empty granite plinth remains in an area now called Harriet Tubman Grove.
While Jones says Wiley's work was created to "respond" to statuary in Richmond, he may play a role similar to Hopkins, engaging with various historical figures, including Charles Carroll of Homewood, a slaver who owned the property. where the Homewood campus is located. sits now, and Keyser Quad's namesake, William Keyser, whose largesse helped create the Homewood campus but who also espouses racist views in some of his writing.
"I think we invite all questions from Wiley to our campus," Jones says. "What does the installation of this statue force us to think about in terms of power and authority? To beauty? I think these are important questions on a campus like ours, and I hope we will have the opportunity to talk about them in the presence of this important work of art."