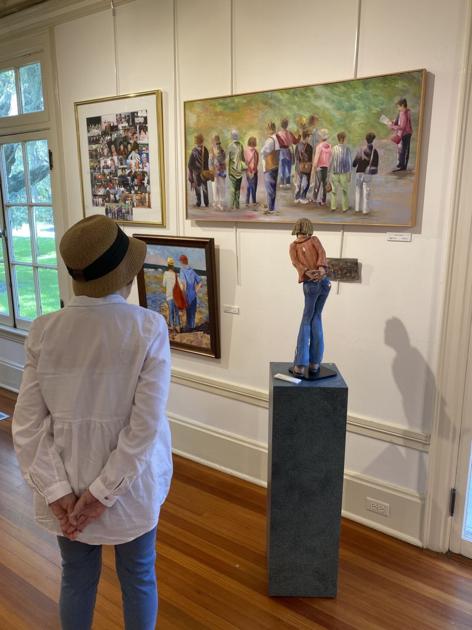 artists collaborate to explore art forms in new exhibition | Life
Throughout August, a unique art exhibit will be held at the Goodyear Cottage on Jekyll Island. Triple Play is a presentation featuring three artists specializing in different art forms.
Nance Manderson works in photography; Dottie Clark is a painter; and Justine Ferrei creates 3D sculptures.
The show will be visible throughout August, with an opening from 1 p.m. to 3 p.m. on Sunday.
The Goodyear Cottage is open from noon to 4 p.m. Monday through Friday. On weekends, it is open from 10 a.m. to 4 p.m. and admission to the exhibition is free.
Dottie Clark is an artist from St. Simons Island with a background in interior design. She said her talent for drawing had turned into an interest in art, which led her to her passion for painting today.
Clark always knew that art was something she could one day pursue, and after raising her children, she decided it was time to do it.
"I always thought I could do it, so one day I decided to do it," Clark said.
Clark's art style is impressionistic and colorful, she says.
She added that most of her work is about the expression of color. She said she used color to create her unique impression of a subject rather than just reflecting reality.
She enjoys the artistic process because it allows her mind to wander, and she often appreciates the result reflected in her work.
"You start off by intending to do one thing, and sometimes you get lost in the process and end up doing things that surprise you. But you might find that you really like her very much, "she said.
She added that it's always an interesting challenge to see where her mind will go.
Clark is excited about the outcome of the Triple Play exhibition, and that it wouldn't have been possible without the combined efforts of the other artists.
The idea for the exhibition took shape when her lifelong friend Nance Manderson sent her photos as inspiration for her paintings.
Clark then asked another friend if she would be interested in interpreting the same subjects in 3D form through sculpture. Justine Ferrei then offered her know-how by creating sculpted representations.
"That's why it's called Triple Play," she said. "There are three of us doing the same subject but very differently.
Clark added that when asked to put on a show on Jekyll Island, she wanted to think of something unique, and she knew that the work of the three artists exploring different art forms would fit perfectly.
She said it was interesting to see how each artist deals with the subject and that the differences in the artwork will be what makes the exhibition unique.
Clark and his fellow artists are delighted to finally present their work after almost two years of waiting due to the COVID-19 pandemic.
"When we put on the show over a year ago, it was really exciting when the three of us got together and got to see what the others had created," she said. "We were really excited about it, so I hope it happens and the community is excited about it as well."
Supporting the local arts community has been Clark's priority since she began her career as an artist. She said it's important to get involved because artists enjoy the company of other creators.
"You feed off the creativity of others," Clark said. "I also think artists are very generous in helping other artists."
She added that the entire artistic process – from inspiration to developing an idea, to the finished product and finally the sale – acts as positive reinforcement, pushing her to keep creating new works of art. .