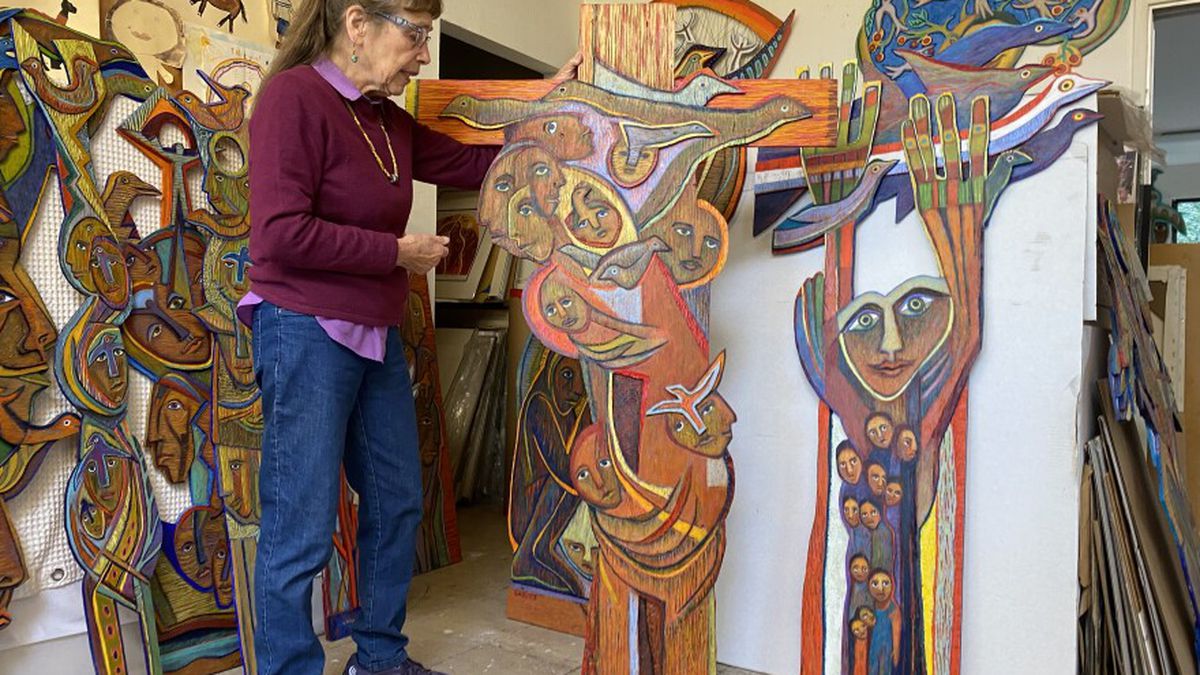 Born of Fire: Ashland's Betty LaDuke creates art inspired by Almeda Fire
Betty LaDuke's art studio and home in the Ashland Hills above Southern Oregon University is as unique as she is – a studio of artistic expression.
"The monkeys will get you there," she told me, in e-mails when setting up the interview. As I approach, I am greeted by two monkeys with painted panels on display outside the house.
Seeing me at the door through the glass, LaDuke, 88, leapt from his chair behind his desk. She welcomes me warmly.
LaDuke is lively, highlighting pieces from her home, such as etchings she made in Guatemala, created during her early years of travel.
"My work has been around the world," LaDuke tells me.
She points to paintings in her living room illustrating her travels in Africa and Latin America. The bright and rich colors of her living room match her own dynamism.
"Fire, fury and resilience"
Entering her art studio, the paint-stained floor underneath and sketchbooks and painted panels all around, she asks me to walk in a straight line with her across the room, before doing turn around.
Pointing to the opposite wall, she said, "Here is your fire, your fury and your resilience. "
Each of the three aptly named wood panels represents the emotions of Almeda's fire. LaDuke began work on the panels in October 2020, about a month after fire ravaged the towns of Talent and Phoenix, destroying more than 2,300 homes in just hours. She had sheltered a friend and evacuated from Phoenix who feared losing her own home.
The first panel of the series captures the feelings of hopelessness felt by her friend and so many others and the "horror of the flames" that night.
For nine days, while LaDuke's friend stayed with her after the fire, worry about whether her house was still standing was still present in LaDuke's own house.
"We had the orange sky… the sirens, the lack of movement," LaDuke said.
LaDuke's friend checked her cell phone throughout the day in the days after the fire to find out when she could get home.
"The anxiety, the lack of information, the lack of knowing specifically about her house and the condition she would be in," LaDuke said.
The second panel took place after LaDuke was able to tour Rogue Valley and see for herself the devastation left behind
What she found were charred trees and "the agony of what people had to go through."
Her friend's house survived the blaze, but LaDuke learned that other friends had lost their homes and some of their artwork after that day.
"Sometimes people had nothing but each other and their families," LaDuke says, "but the future was not clear."
The third panel presents a feeling of coming together and of people taking care of their animals and each other.
LaDuke was inspired by seeing people reaching out to their neighbors and lost animals; she watched people leave dishes of food for lost animals and take care of each other amid the tragedy of it all.
The artwork also featured on the cover of a book called "Fire, Fear, Hope," which tells the stories of nine women linked to the fire.
From roots to branches
Raised in the Bronx, New York, Betty LaDuke taught at Southern Oregon University for over 30 years. She has lived and visited dozens of countries around the world, but she has also kept her local influence.
The daughter of a house painter and a factory worker, she has always been fascinated by public art exhibitions.
"(My parents) wanted me to make a living, that was a great thing," she says.
But they also encouraged his interest in art.
During her teenage years, she attended Harlem High School of Music and Art, now known as Fiorello H. LaGuardia High School. There, his missions often took him to the markets of New York, a sketchbook in hand. This is where she becomes part of his artistic style and his way of seeing the world through his sketchbook.
She traveled to Mexico when she was 19 and lived there until she was 23. It was there that she found inspiration from some of the world's greatest mural painters; a style that included the realization of his art outside of a traditional rectangular canvas.
You'll quickly notice when looking around his studio that LaDuke doesn't like rectangles or hard edges and it shows in his art. The wood panels she creates come to life outside of four right angles.
"I'm just kind of connected with a sense of form," LaDuke said.
Art from a fully lived life
Much of LaDuke's work documents the life and work involved in the human experience, from youth to old age, locally, but also in countries around the world; showing how, despite cross-cultural differences, and as Maya Angelou said, "We are more alike … that we are not alike."
Animals, people and agriculture have inspired his work for decades, including 75 panels created to represent the region's farm workers. Some of them have been on display for several years at Rogue Valley International Airport in Medford.
All of LaDuke's art is sensitive to the world around him – both near and far. She reads and listens to the news and describes her works as a mixture of humor, satire, realism and hope.
It starts with her sketchbook, many of which are stacked in her art studio.
Social justice then flows through the brushstrokes on the wooden panels, which she builds herself. Work in progress and finished panels fill the space of the art studio. Some depict scenes from the pandemic, The Dream Act, or natural disasters brought on by climate change. Its goal is to capture the minds and energy of people around the world.
"It expresses what I see and feel, but it invites people to interact and ask questions, to each other and at work, and to me," LaDuke says.
She also drew some of her agricultural art inspiration from her late husband Peter Westigard, an entomologist at what is now the Southern Oregon Research and Extension Center (SOREC). The couple had been married for 48 years.
They took their vows in 1965, shortly after arriving with her daughter Winona in southern Oregon in 1964.
Winona LaDuke became a well-known activist and went on to run for the Vice President of the United States on the Green Party ticket with Ralph Nader in 2000.
Young and humble spirit
Betty LaDuke's works have also been exhibited throughout Rogue Valley and around the world. A piece of her art has also been placed in the office of Oregon Governor Kate Brown and pieces are also located in the office of State Senator Jeff Golden (D-Ashland).
Despite her praise, it's easy to see that 88-year-old LaDuke has kept a young and humble spirit over the years.
The artwork of his grandchildren is prominently displayed as you walk into his studio, even though his grandchildren have grown up a long time ago.
She also always continued to represent children around the world through her art, which led her to a new coloring book production project.
LaDuke shares the newly released coloring books around her kitchen table, located just a few feet from her art studio in her home. Coloring books can be purchased at Ashland and Grants Pass.
LaDuke released the first coloring book after his art sketches were used in conjunction with coloring activity sheets that Rogue Valley Farm to School provided to students at the start of the pandemic. The program also provided food boxes via Fry Family Farm to Phoenix and Talent students across Rogue Valley during the pandemic.
This gave her the idea of ​​creating her own coloring book, of which there are now a total of seven in publication this year. One features sketches of children from around the world, farm workers and women.
"It's like I need to do it at my age in the sense that I don't want those sketchbooks to go to waste in an archival bin," says LaDuke.
"These sketches need to live," she adds. "They have a lot to say about people… so that children can see the big picture of the world and how food is harvested. "
New show scheduled for spring 2022 at the Grants Pass Museum of Art
LaDuke's Almeda Fire panels will be part of a multidimensional art exhibit slated for Spring 2022 at the Grants Pass Museum of Art. LaDuke named his 38-panel exhibit "Fire, Fury & Resiliency: Social Justice".
The showcase themes will cover climate change, the COVID-19 pandemic, resilience, border crossings near and far and the wisdom of turtles.
Hyla Lipson, Executive Director of the Grants Pass Museum of Art, works with her in planning the exhibition.
"It's beautiful art and I find it very promising," Lipson said.
More Betty LaDuke Art is at www.bettyladuke.com.