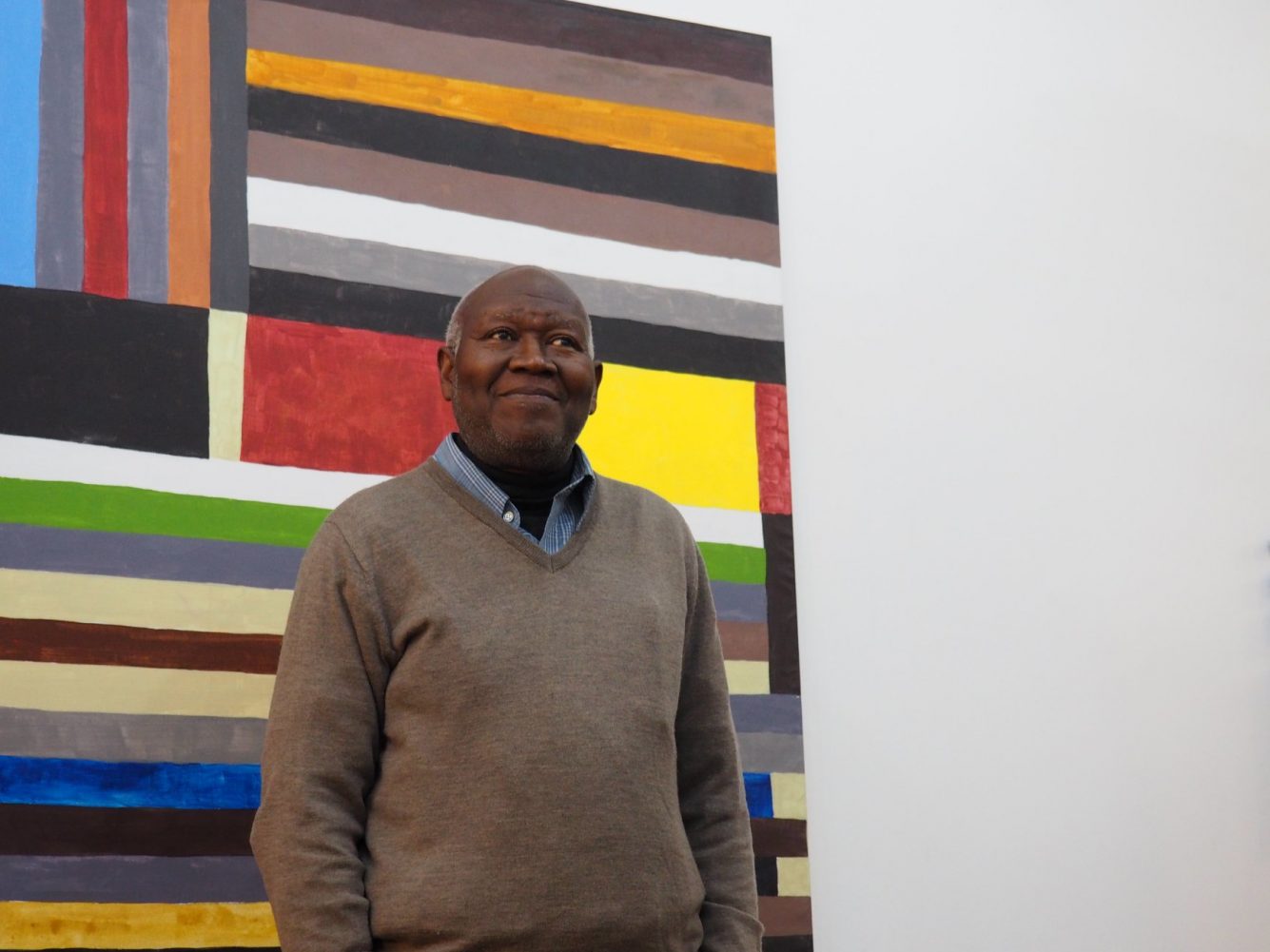 Latest on noir art: Ghanaian artist Atta Kwami has passed away, Julie Mehretu joins the Whitney Museum board of trustees, Questlove's portrait of Bisa Butler makes the cover of New York Times Magazine and more
The latest news in Black Art presents updates and developments in the world of art and related culture

Atta Kwami, 2019. | Photo: Modern painters, new decorators, courtesy Serpentine Galleries
Ghanaian ARTIST and printmaker based in UK Atta Kwami (1956-2021) died. He was 65 years old. Kwami's kiosk paintings, murals, and kiosk sculptures are influenced by the geometry and color of West African architecture and textiles. Art historian and curator, he is the author of "Kumasi Realism, 1951-2007: An African Modernism". Last fall, he won the 2021 Serpentine Galleries Maria Lassnig Award, which includes a public art commission and accompanying monograph. The project was due to start in 2022. When he received the Lassnig Prize, Kwami said: "The 2021 Maria Lassnig Prize is completely unexpected. I am very happy that it has come to this point in my life. I will always be humbly grateful to all the people who have supported me; my mom, my wife, my galleries and my friends inside and outside Ghana. I am happy for myself and for Ghana. | Art Forum
"The 2021 Maria Lassnig Prize is completely unexpected. I am very happy that it has come to this point in my life. I will always be humbly grateful to everyone who supported me… both inside and outside Ghana. I am happy for myself and for Ghana. – Atta Kwami

Clockwise, from left, Julie Mehretu, James Claiborne, Beverly Morgan-Welch and Eric L. Motley. | Images: y Monica Schipper / WireImage; © Barnes Foundation; © MoMa, photo by Peter Ross; © Tony Powell
Appointment
The Whitney Museum of American Art in New York has appointed seven new members to its board of directors, including a New York artist Julie Mehretu, whose mid-career survey was recently presented to the museum, and Eric L. Motley, Deputy Director of the National Gallery of Art in Washington, DC Mehretu is only the third artist to join the museum's board since its founding in 1930. Artist Fred wilson is also a member of the board of directors. | New York Times
The Museum of Modern Art (MoMA) in New York has announced four new nominations, including Beverly Morgan-Welch as Senior Deputy Director of External Affairs. His portfolio includes overseeing MoMA's outreach strategy, fundraising and sponsorship, membership, affiliate programs, special events, marketing, communications and graphic design. Morgan-Welch joins MoMA from Smithsonian's National Museum of African American History and Culture (NMAAHC) where she was Associate Director of External Affairs, from 2016 to 2021.
James claiborne was appointed curator of public programs at the Barnes Foundation in Philadelphia. Most recently, he served as Public Director of Programming at the African American Museum in Philadelphia. He officially joined the Barnes in September.

KEMAR KEANU WYNTER, "ZZ52 (Pea and Spinning Stew)," 2020 (graphite, oil pastel on French card stock, 19 x 25 inches). | © Kemar Keanu Wynter, courtesy of the artist and Klaus von Nichtssagend Gallery
Representation
The Klaus von Nichtssagend Gallery in New York now represents the artist Kemar Keanu Wynter. The gallery is currently showing "Pairings," a solo exhibition of his work in its front gallery, and plans show his work at NADA Miami in December. The Jamaican-American artist was born in Crown Heights, Brooklyn, and lives in Flatlands, Brooklyn.
Prizes and distinctions
The Joan Mitchell Foundation has announced 15 recipients of its new Joan Mitchell Fellowship for Artists Focused on Painting and Sculpture. The first scholarship recipients, including Angela Hennessy, Guadalupe Maravilla, and Kambui Olujimi receive $ 60,000 each over five years.
Magazines
Bisa Butler, who is known for using a mix of brightly colored patterns in quilt portraits, created an image of Amir Thompson, aka Questlove, who covers the New York Times Magazine's cultural issue (Oct. 17, 2021). On Instagram, Butler noted the biographical references she appeared in The Roots' drummer's portrayal, including vinyl records, drums and a heart on her lapel, symbolizing Questlove's hometown of Philadelphia, the city of the brotherly Love. Butler added, "* There is no painting on this work of art. Cotton, silk, lace, velvet and seed beads and glass bugle. Quilted and applied.
Opportunities
Brandywine Workshop and Archives in Philadelphia is recruiting a deputy director of programming. Founded in 1972, Brandywine began producing original limited edition fine art prints, providing training and mentorship to young artists. The association continues to collaborate with an international roster of artists on printmaking projects and also supports artist residencies, exhibitions and educational programs. Newly created leadership position, the Deputy Director will be "responsible for overseeing all conservation and education activities" and "a key partner of the Executive Director in shaping the artistic vision of BWA and helping to develop the organizational structure for the to support ". The deadline for applications is November 1, 2021. | More information
The City of Los Angeles Department of Cultural Affairs (DCA) announced three grant opportunities for LA artists. DCA's Artist-in-Residence Grants (AIR) program has been reinvented as the Neighborhood Engagement Artist Residency Grants (NEAR) program. The City of Los Angeles Individual Masters Project Grants Program (COLA-IMAP) and the new Creative Opportunities Optimization Promise Grants (CO-OP) grant program are also launched. Deadlines November 5, 2021. | More info here and here
CT
TYPE OF SUPPORT CULTURE
Do you like and appreciate the type of culture? Please consider supporting its current production by making a donation. Culture Type is an independent art history project that requires countless hours and expense to research, report, write, and produce. To help maintain it, make a one-time donation or sign up for a recurring monthly contribution. It just takes a minute. Thank you very much for your support.