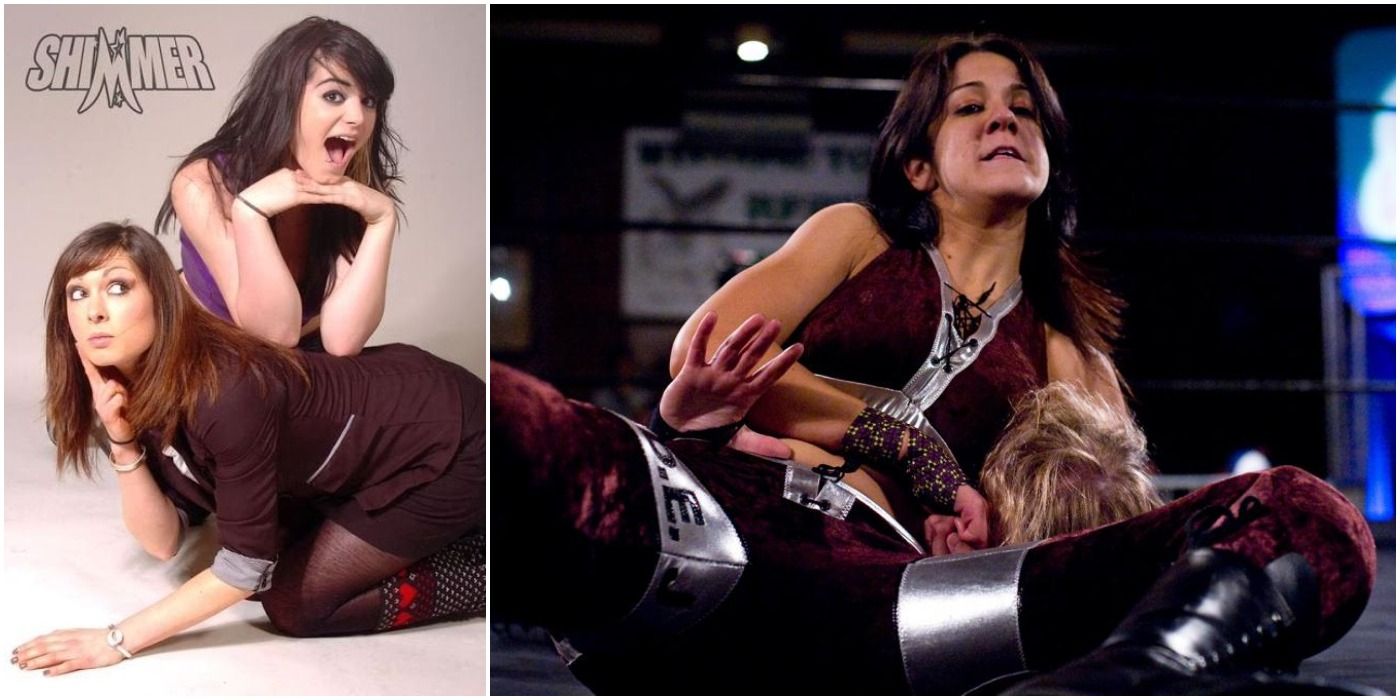 SHIMMER's massive influence can be seen in the women's division of every wrestling promotion
In recent years, the impact of the early 2000s indie scene has become increasingly pronounced on the modern professional wrestling landscape. From changing in-ring styles to the type of individuals fans will see competing in the ring, whenever this topic comes up, people are quick to point to Ring of Honor and Pro Wrestling Guerrilla. While these promotions have certainly played a fundamental role in this evolution, it's a different story when it comes to women's wrestling. For this, the development of female wrestling in the 21st century owes much to SHIMMER.
In short, women's wrestling in the United States wouldn't be where it is today without a promotion like SHIMMER. Just looking at the current crop of female talent dominating their respective divisions across the board, virtually all of them have found essential SHIMMER experience in their formative years. Beyond simply providing a place to wrestle, SHIMMER has been a champion in promoting women's wrestling since its inception nearly two decades ago.
RELATED: 10 Most Important Women's Matches In History
SHIMMER has proven that women's wrestling is a viable commodity
SHIMMER is the brainchild of recent Independent Wrestling Hall of Fame inductee Dave Prazak. Labeled "the most influential man in independent wrestling history" by CM Punk, much of his legacy comes down to the work he put into SHIMMER and promoting women's wrestling. Having held virtually every role a person can have in the wrestling industry, both in front of and behind the camera, Prazak had a keen eye for what might work in the independent scene. He was working for Ian Rotten in IWA Mid-South when he recognized the potential to book more women on their shows. While Prazak would succeed in doing just that, the creation of the IWA Mid-South Women's Championship at Volcano Girls event, consistently holding all-female events was out of place with the meager promotional budget. However, Prazak received help from other sources to complete his vision.
Ring of Honor's Gabe Sapolsky and Full Impact Pro's Sal Hamaoui came to Prazak with the proposal. Their respective promotions, for which Prazak performed play-by-play commentary, performed well in DVD sales. As such, they were keen to bet on Prazak's proposal for an all-female promotion and helped produce the first SHIMMER show to see how it would perform on DVD. by SHIMMER Volume 1 was held on November 6, 2005 in Berwyn, Illinois, featuring a card of the hottest women on the independent circuit. Just over fifteen years later, SHIMMER has performed over a hundred shows since. Obviously, Prazak was right.
RELATED: Queen's Corner: WWE & AEW Must Learn From Indie Wrestling When it Comes to LGBTQ Representation
SHIMMER made high women's wrestling what it is today
SHIMMER took women's wrestling from a side attraction to the forefront of independent wrestling. The promotion gave countless performers a place to hone their craft, gain valuable experience, and grow as professional wrestlers in front of crowds who truly enjoyed what they were shown. Looking through the locker rooms of WWE, AEW, Impact and beyond, SHIMMER's influence is practically woven into the very fabric of American women's wrestling.
SHIMMER's first champion, Sara Del Ray, will not only go down as one of the greatest women's wrestlers of all time, but also one of the greatest trainers. His work at the WWE Performance Center helped create whole new generations of talent, continuing to nurture the art form behind the scenes. One of the most tried and true messages that persists in the industry is that wrestlers can only improve by working with opponents who are better than them. SHIMMER achieved this, giving a huge number of female wrestlers the chance to work with some of the best female wrestlers in the game during their formative years. Over the years, SHIMMER has become home to Becky Lynch, Bayley, Shayna Bazsler, Dakota Kai, The IInspiration, Ember Moon, Britt Baker, Mercedes Martinez, Ruby Soho and many more. Just look at any of the photos from the promotion's signing list, and there's bound to be a plethora of recognizable faces from some of the biggest promotions going on.
RELATED: Queen's Corner: The Impact Of Beauty-Based Gadgets For Women In Struggle
SHIMMER has also given women greater opportunities in all facets of the business. Dave Prazak was just one part of the puzzle that brought SHIMMER together. The promotion was co-operated by Allison Danger, another woman who was briefly coached at WWE's Performance Center. The leadership was also made up of others like Lexie Fyfe and Portia Perez, filling many vital roles that women very rarely had the chance to fill at the time. Top to bottom, SHIMMER has been a place where women can excel for years.
As much as people like to throw around the term "women's revolution," there couldn't be anything like it without SHIMMER. Revolution always starts with grassroots movement, and that's exactly what SHIMMER was all about. Having blossomed in the mid-2000s and grown ever since, SHIMMER still acts as a beacon of women's wrestling in the modern landscape. Although the effects of the COVID-19 pandemic have disrupted their flow, as is the case with the entire indie scene, SHIMMER continues to bear fruit from the seeds planted by Prazak and women like Del Ray, LuFisto, Cheerleader Melissa , MsChif and all the women who made their way into the independents of the early 2000s.
Lita deserves one last big game after her terrible start in 2006
Lita's disgraceful exit from WWE should be fixed in the form of one last big match upon her release.
Read more
About the Author