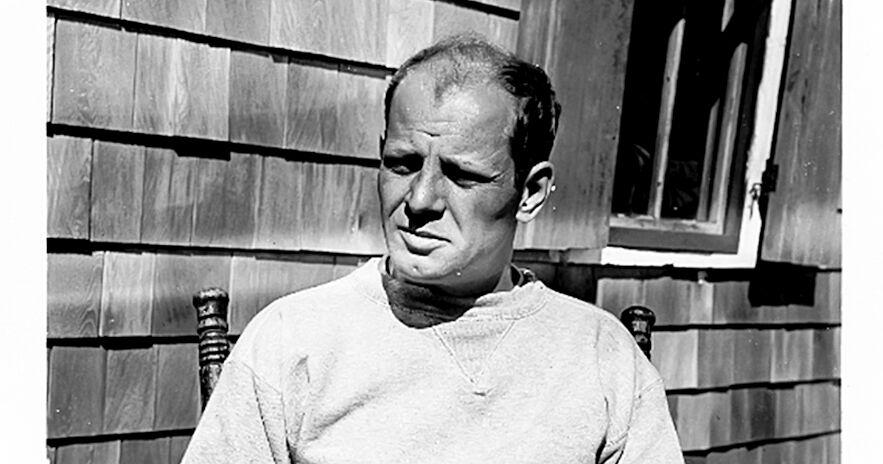 The mountain could be named after Pollock – The famous painter was born in Cody in 1912 | Local News
A well-known local geographic landmark may be named after famous painter Jackson Pollock in the near future.
At their March 1 meeting, Park County commissioners voted 3-2 to approve the recommendation to name a mountain off the Chief Joseph Highway as Mount Jackson Pollock. The 6,616-foot mountain, nicknamed "Red Hill" by some for its red sandstone rock face, has no official name. It is located on property owned by the Two Dot Ranch.
Some community members have also expressed concern that this monument should be named after Native American heritage.
Pollock is one of the most beloved American artists of the 20th century. He was born in Cody, but moved out when he was 10 months old.
"Even though he was in Cody for a short time, he raised a lot of awareness in the West," commissioner Joe Tilden said.
Cody resident Dewey Vanderhoff lobbied for the designation at the commissioners' meeting. There is no memorial for Pollock in Cody.
"Cody, Wyoming, home to the birthplace of the most famous artist of the 20th century, has nothing," Vanderhoff said. "Buffalo Bill in the ying-yang, we have nothing on Jackson Pollock."
The name request was originally submitted to the US Board on Geographic Names by Gregory Constantine, a Michigan artist and retired art teacher.
Constantine first came across Red Hill during a visit to Cody one summer around 2016. He said he was amazed by the "wonderful and colorful strata" of the rock face, the shapes of which reminded him of a series of paintings he had done in the 1960s.
It inspired him to start creating new paintings with Red Hill as his focus, doing 34 variations of the formation, he said. He named the first play "Cody".
"I just couldn't stop, I was obsessed with it," Constantine said in a phone interview. "I felt like Vincent Van Gogh, I just got lost in the work."
The Board of Geographical Names does not allow a geographical feature to be named after a living person, so Constantine could not ask to name the mountain after himself as he had wanted. He first tried to circumvent this roadblock by naming it after the sixth-century Pope Gregory I and proposed that the mountain be called Mont Saint Gregory. This proposal was immediately rejected by the board, so he later opted for Pollock.
Constantine said he considered Pollock, "without a doubt, the most influential and important American artist of the 20th century", having a lifelong impact on the art world with his works. Before Pollock, he said that popular art was mainly influenced by European styles.
"What Jackson Pollock did was turn his back on Europe," Constantine said. "The art world was so attached to European traditions of artistic creation. He broke that.
Pollock was a major figure in the abstract expressionist movement. According to the Musuem of Modern Art, the vast majority of his work consists of "drips", charged and colorful patterns filled with lines and spots, images of organized chaos.
Pollock did not do Western art and never returned to Cody until he died in 1956. Vanderhoff said that although Pollock's ties to Cody were not deep, he did make a few road trips in the region during his adult life. Vanderhoff compared this to many well-known Western artists who have work exhibited at the Buffalo Bill Center of the West but have never visited Cody.
According to the Buffalo Bill Center of the West, Pollock influenced famed Western painter and Cody resident Harry Jackson. The two were friends, and Jackson has cited Pollock as one of his big influences, even using Pollock's living room for his wedding ceremony. There were elements of Pollock's style that could be seen in Jackson's work.
"He always had a lot to say about how Jackson Pollock helped him become a famous artist," said Ruffin Prevost, editor of the Center's Points West magazine.
Local art gallery owner Sue Simpson Gallagher said while she thinks there must be a local designation for Pollock somewhere, it shouldn't be on Red Hill. She finds it disturbing that a piece of land likely frequented by Native American tribes is now named after a white man.
"I strongly believe that's not the thing to name for Jackson (Pollock)," Simpson Gallagher said. "It is a sacred formation that has been received as such by all who have lived here."
The Western Center issued a similar but less direct statement on the naming.
"While whether to rename a local landmark after Jackson Pollock deserves further critical discussion, the recent decision by Park County Commissioners serves as a catalyst for thinking about how we might recognize the fact that Pollock was born here in Cody," the art historian said. Karen McWhorter, who serves as the Director of Conservation, Education and Museum Services at Collier-Read. "Perhaps through public programs and otherwise, in the context of an art museum, we at the Buffalo Bill Center of the West can help increase recognition of Cody as the birthplace of Jackson. Pollock."
Red Butte, a similar landmark near Rattlesnake Mountain, was the site of the first Native American trading post built in the area in 1880, according to information provided by the Heart Mountain Ranch Preserve on a sign. Pat O'Hara Mountain was originally called Blue Bead Mountain by the Native Crow, and nearby Heart Mountain was a sacred destination for their tribe.
Red Butte is also the grave of Frank White Beaver Powell, a part-Native American man who was friends with Buffalo Bill Cody and nicknamed the Chief Medical Officer of the Winnebagoes for his work with Native American communities across the border.
Tylis Bad Bear, a prominent leader of the Crow tribe, said Crow territory encompassed the entire Big Horn Basin, spanning nearly 30 million acres between present-day Bozeman and the Black Hills of South Dakota. . Bad Bear said he would like to see Red Hill named after his father, Grant Bulltail. Bulltail was a Crow Tribe elder, pipe lighter, oral historian, American sailor, published author and teacher who received a 2019 National Heritage Fellowship, the nation's highest honor in folk and traditional arts. . He hosted an annual event celebrating Heart Mountain's Native American heritage before he passed away in 2020.
There are pending proposals from several tribes to change the Hayden Valley of Yellowstone National Park to the Valley of the Buffalo Nations and to designate Mount Doane as the mountain of the First Peoples.
A similar effort is underway to rename Squaw Teats outside of Meeteetse. Last November, Home Office Secretary Deb Haaland declared the term "squaw" derogatory and issued a secretariat order to rename all 660 sites across the country using the word. There are also two different Squaw Streams and a Squaw Peak in Park County that are under review. Five nearby geographic landmarks were identified for each site to help determine new names.
Vanderhoff thinks the Pollock name could attract new visitors to Park County from the arts community.
"Not only will it be recognition, but it will be a tourist spot," commissioner Scott Mangold said in agreement.
Commissioners Lee Livingston and Lloyd Thiel voted against supporting the designation.
"I'm not saying he's a famous artist," Livingston said, indicating that he would rather commemorate Pollock with a sign somewhere outside of Cody's city limits. "He came from Cody, but I can't see any outdoor geographic feature being named after him. For me, it does not suit me. »
Commissioner Chairman Dossie Overfield, though voting to support the nomination, said the county will not pay or help find funds for any accompanying signage.
The Commissioners' letter of support for Mt. Jackson Pollock and all other public comments submitted will be presented to the Wyoming Board of Geographic Names for discussion at its next meeting on May 18. This board will then make a recommendation to the US Board on Geographic Names. , which meets monthly and publishes quarterly lists of new or changed names of geographical entities. Tribal governments will also have the opportunity to provide comments at the national level.
"It's not a done deal, but I'll celebrate when it does," Constantine said.
Those wishing to submit a comment on Mount Pollock's proposal to the state board can email [email protected]