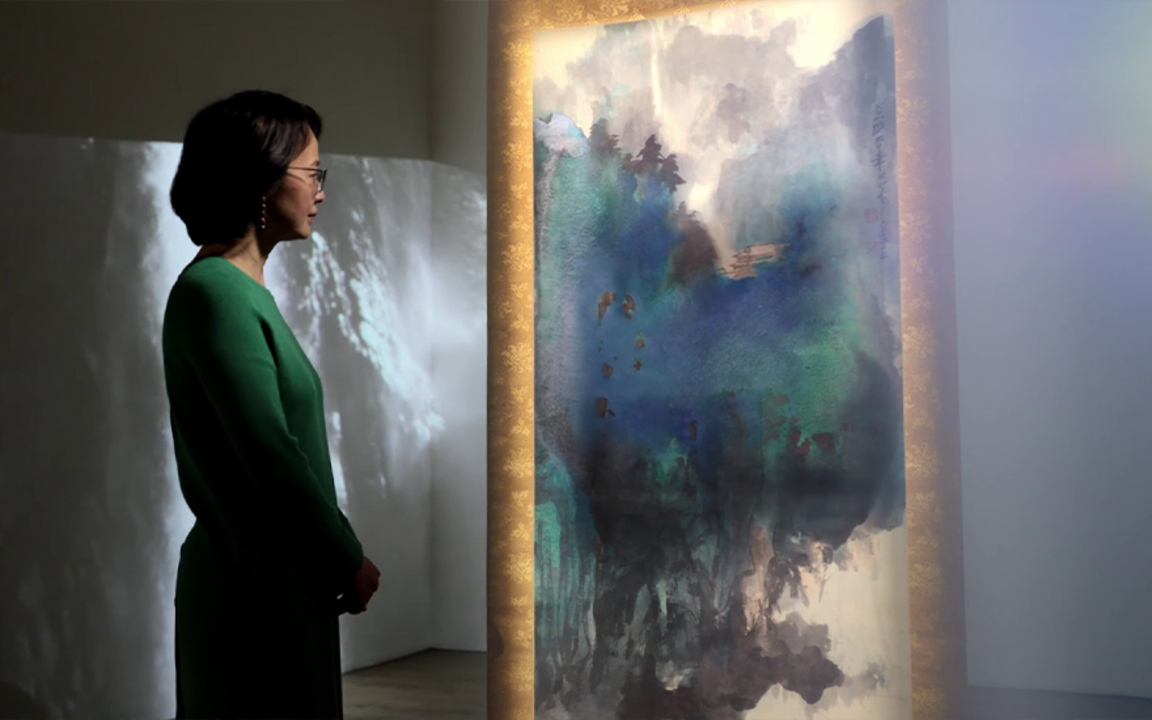 Zhang Daqian: China's most popular artist
Zhang Daqian was born in 1899 in Sichuan province in the last years of China's last dynasty, the Qing. The upheaval of the following decades presented the young artist with both challenges and opportunities – he was able to see and experience many things around the world, but he spent the second half of his life unable to return to his native country. .
Born into a family of artists, Zhang Daqian was first taught to paint by his mother and older siblings. He then copied as many masterpieces as he could see and was particularly influenced by the individualist masters Shitao (1642-1707) and Bada Shanren (1626-1705). In 1941, Zhang Daqian spent two years studying Buddhist murals in Dunhuang, which turned out to be a pivotal experience in his development.
His desire to see and study past masterpieces naturally led Zhang Daqian to become an influential connoisseur and important collector. His collectible colophons and seals can be found on key paintings in many world-renowned museum collections.
Zhang Daqian's work is notable for the many painting styles he mastered, from highly meticulous and detailed portraits to bold and expressive ink-splattered landscapes. While he was very innovative in developing his own unique style, he always insisted that his art was firmly rooted in Chinese tradition. As is usually the case with ink artists, his later works, especially his vibrant ink-splattered landscapes, are the most sought after.
Enjoying a long life – he was 83 when he died in 1983 – and filled with enormous passion and energy, Zhang Daqian produced a large number of paintings, estimated at an average of 500 per year. .
After his first overseas trip to Japan as a youth to study textile design, Zhang Daqian also traveled in his youth through China, and in his later years around the world, especially after leaving for good. China in 1949. The artist had homes in Argentina, Brazil, California and finally Taiwan.
Zhang Daqian was a very gregarious person, who was always surrounded by a large entourage of family, students, friends and admirers. With his long scholarly robe and flowing beard, he presented himself as a traditional Chinese scholarly artist. He built impressive houses for himself with classical Chinese gardens. One of his most publicized events was his famous meeting with Pablo Picasso in 1956, presented as a meeting between East and West.
A master in the art of guanxi — or social reciprocity — Zhang Daqian gifted paintings to influential people and to teachers, doctors, and leaders who provided him with help and services. Today, these paintings not only have intrinsic value as the works of a gifted artist, but also because their provenance ensures their authenticity.
Building on his early years of copying old paintings, Zhang Daqian was a known forger who took great delight in revealing that an ancient treasure from a famous collection was actually a copy he had made. Ironically, Zhang Daqian's paintings have become so popular that he too is now widely forged. Close examination, however, should reveal its distinctive style and rugged personality.
In 2011, Zhang Daqian not only became the most popular Chinese artist at auction, but also the world's best-selling artist, surpassing his old acquaintance, Picasso. Since then, the demand for works by Zhang Daqian has remained strong.